Balloon Kyphoplasty Procedure / Vertebroplasty
For Pain Relief
Osteoporosis, which is weakening and thinning of the bone, often has a dramatic impact on the spine, and patients can experience significant compression fractures from osteoporosis. In the past, patients would often have to wear braces for several months.
More recently, kyphoplasty has been developed in which the neurosurgeon is able to expand some of the compression of the bone in the spine and fill the cavity with spinal bone cement. This helps to restore some of the angulation of the spine, restore height, and relieve pain. The success rate of this procedure is very good.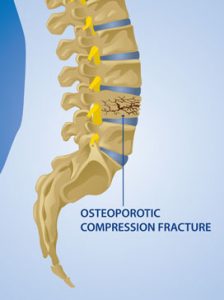 Techniques of Kyphoplasty